Cronos
An interactive tool to automate bioequivalence/bioavailability studies & early phase clinical trials.
Overview
Fully automated solution for the clinical right from project management, protocol designing and volunteer registration to reports & audits.
Offered with minimum manual intervention and stepped up security, Cronos is all set to revolutionise the manner in which clinical research is being conducted and maintained. After all, who wants the hassles of manual data management and screening when all you need is just a single click and Cronos is there to do the rest.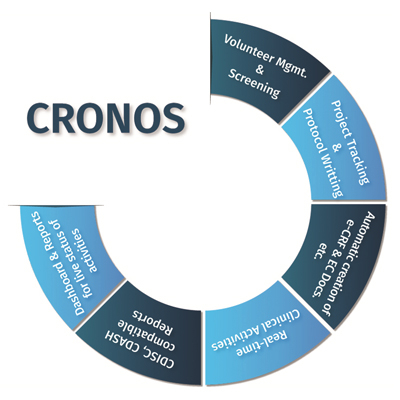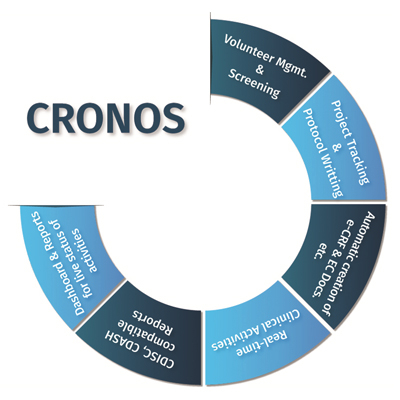 Modules
Volunteer Registration & Screening
Biometric (fingerprint & IRIS) volunteer identification
Capture primary details of volunteer with Photograph & autograph
Generic & Study specific Medical Screening
Supports Lab integration
Direct data capture from screening instruments like ECG machine.
Online and real-time review.
Study/Project Tracking & Management
Project initiation with milestone/important activities tracking tool & dashboards.
Study/Project scheduling & planning.
Interactive canvas tool for clinical ward management/study-ward planning.
Protocol Writing
Online protocol writing with submission wise-sponsor wise Templates.
Version management of protocols.
Online review management of Protocols.
Mobile app for real-time status notifications & approval.
Auto Study-CRF creation.
Electronic Data Capture & e-CRF
Real-time data collection capability (even for bedside sample studies) with mobile/portable-handy devices.
Wrist band, IP labels, Pk Sample barcodes makes it very easy to capture data.
Online Review/Retro reviews can be merged with system's dynamic & real-time review facility.
Study-wise, global rules configuration (as per study/SOP requirement) for correct & procedural data collection.
Audit trail capture & deviation management.
Sample Inventory
Sample tracking from sample collection till sample shipment or sample destruction.
Manage all activities like centrifugation, separation, segregation, etc in our system.
CDISC (SDTM)
Easy mapping by just drag and drop.
Standardised library for reusability.
Extract datasets in (SAS format) on a single click.